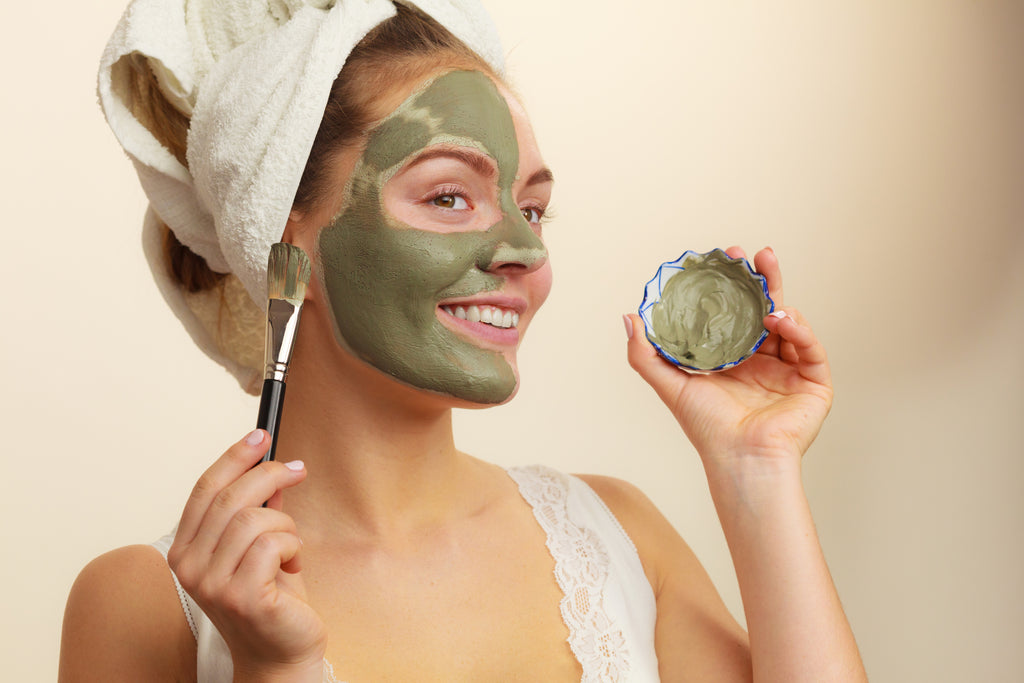 Aztec Clay Mask for Acne
Facial and body masks can provide many benefits to the skin. Aztec clay is one of the most beneficial clay masks as it's not only made from natural bentonite clay, but its properties have been of value for centuries. Clay masks are most commonly used on the face but can also be used on the hair and the body. They can help to clear up skin conditions such as acne.
Aztec clay is safe and easy to use, as well as being affordable. A large two-pound container will last you for several months so you can make it into a variety of skin mask recipes.
What is aztec clay?
Aztec clay is sold in a container with a twist lid. It contains only 100% natural calcium bentonite clay, free of any additives, fragrances, or animal products. One container can last you several months. While you can use the powdered clay directly from the container, it's better to make it into special clay masks that can be tailored to suit your skin's needs. This will also extend the lifetime of your clay.
Bentonite clay can contain calcium and sodium, though the more common type used for cosmetics and skin care is calcium bentonite. This type of clay is mined from many parts of the world. It's often found in the USA, including the states of Wyoming, Montana, Texas, and Arizona. It's also found in many countries around the world, including France, Egypt, India, etc.
Bentonite itself is a soft, porous and light-colored rock. It's made of minerals from the montmorillonite or smectite group, and colloidal silica. It was formed during the alteration of igneous materials, or volcanic action. It's ground up into powder form and then sold in containers. Since this clay contains basic minerals, it's safe to use externally. The consumer can mix up their own clay mask recipes.
Benefits of aztec clay masks for the skin
There are many benefits to using an Aztec clay mask for skin or hair. Bentonite can actually lure out the positive-charged contaminants on your skin, due to a ionic pull. It can also energize the body and has an alkalinity of 9.7 pH. It will draw the blood flow towards the cheeks and T-zones of the face due to constricting the skin and tissues.
It helps to heal acne-prone skin and eases the appearance of scars. It can also help to control skin sebum production. Not only is an Aztec clay simple to use, but it doesn't leave an uncomfortable film on the skin after treatment. It is non-oily and non-greasy.
Ingredients for making an aztec clay mask
Three tablespoons of Aztec Secret Indian healing clay
Three tablespoons of apple cider vinegar
One plastic or glass bowl
One wooden or plastic mixing spoon
Method for making an aztec clay mask
Mix the Aztec clay and the apple cider vinegar together in the bowl.
Use your spoon until you reach a chunky consistency, until all powder has been mixed in.
Don't over-mix or let it dry out.
You're now ready to apply it to your face.
How to apply your aztec clay mask for acne
Apply the clay mask to your face with your fingers. You can also use a cosmetic sponge or cotton ball if you wish.
Apply the face mask down your neckline if you have extra.
Leave on your acne-fighting mask for about 20 to 50 minutes.
It's normal to feel a tingling sensation on your skin as it dries. The clay mask will contract as your face absorbs the trace minerals.
Don't do other activities while you're waiting for your mask to work. Sit or lie down and relax.
After the time is up, or before the clay mask completely dries up, wash it off with warm water and a soft washcloth.
It's recommended that you use the Aztec clay mask once a week.
Using an Aztec clay mask for acne will help your skin to unblock its sebaceous glands which leads to acne, disinfect the pores which will kill the acne-causing bacteria that loves sebum build-up, and help to dry out and heal up whiteheads, blackheads, pimples, and other types of blemishes.